**This article is intended to give you an overview of the program and how it works. For specific tax or legal questions you must seek the advice of an attorney or your tax preparer**
What is the Landlord Compensation Fund?
In 2020, Oregon's Governor Kate Brown through a series of Executive Orders and HB 4213 prohibited landlords from taking any steps to evict their residents for non-payment through December of 2020.
On December 21, 2020, Governor Brown signed HB 4401 which extended the eviction moratorium through June 30, 2021 (for some only through March 31, 2021).
This meant that for landlords who had already experienced 9 months without any rent payment, those same landlords could now face another 6 months without rent. A total of 15 months!
HB 4401 was clearly an effort by Oregon's leaders to kick the can down the road and avoid evictions despite the numerous problems the moratorium posed.
One element of HB 4401 that was different from prior extensions was the creation of a Landlord Compensation Fund (LCF). Unfortunately the fund sounds better than it is. For starters, the LCF is wildly underfunded at a size of $150 million dollars, roughly half of the estimated landlord losses so far. In addition to this, there's a rub. In order to receive funds a landlord must accept a 20% discount, meaning they are only eligible for 80 cents on the dollar assuming they qualify. This decision by the legislature is unconscionable, but we will cover that more later.
For those of you who are interested in applying for relief, we have provided key information below along with links to forms and additional resources. We strongly encourage you to reach out to your legislative and local leadership in support of more funding so all parties can be justly compensated.
Key Elements of the Landlord Compensation Fund (LCF)
The fund has a lot of rules and timelines. We've done our best to break them down for you below.
What the LCF Covers
The LCF only covers rent. It also only covers rent for existing tenants. If you had a former tenant that owed you prior rent, but has since moved out, you are NOT eligible.
When Can I Apply?
The application period will occur monthly until June or funds are exhausted. The first application window opens in early February of 2021.
What You Need to Apply
In order to apply for the LCF you must provide the state with the following:
A copy of your rent roll for all months you are claiming rent was unpaid. This must only include rental periods between April 2020 and the application date.
A W-9 for the owner/ownership entity.
Contact information for the tenants.
A copy of the tenants Declaration of Financial Hardship.
Proof that the required notices were sent to all the tenants.
The Declaration of Financial Hardship
If you receive a declaration from your tenant they will be automatically protected from eviction through June 30, 2021. IF your tenant does not submit the form, all prior balances will be due on March 31, 2021.
If you decide to apply for relief and you are unable to get your tenant to sign the required declaration you can issue a 10 Day Notice of Termination for Non-Payment of rent. You must also include any required disclosures with the notice.
Application Window
The window to apply opens in early February. There is no exact date yet, but it should be soon. We highly recommend visiting the state's website and signing up for email updates.
Applications are Scored
The state is well aware that the demands on the fund far exceed available funding. For this reason they have created a scoring system which favors small landlords. The bigger you are, the lower your score. The same is true for balances owed. Those with the greatests losses get more points. On the surface this makes some sense, but when you consider the fact that these hardships have been solely created by the state, and the solution to underfund is also a decision by the state, a scoring system seems hardly fair. We wish you luck.
The Timeline For Review And Payment
Below is a sample of the timeline you can expect for review and funding if your application is approved.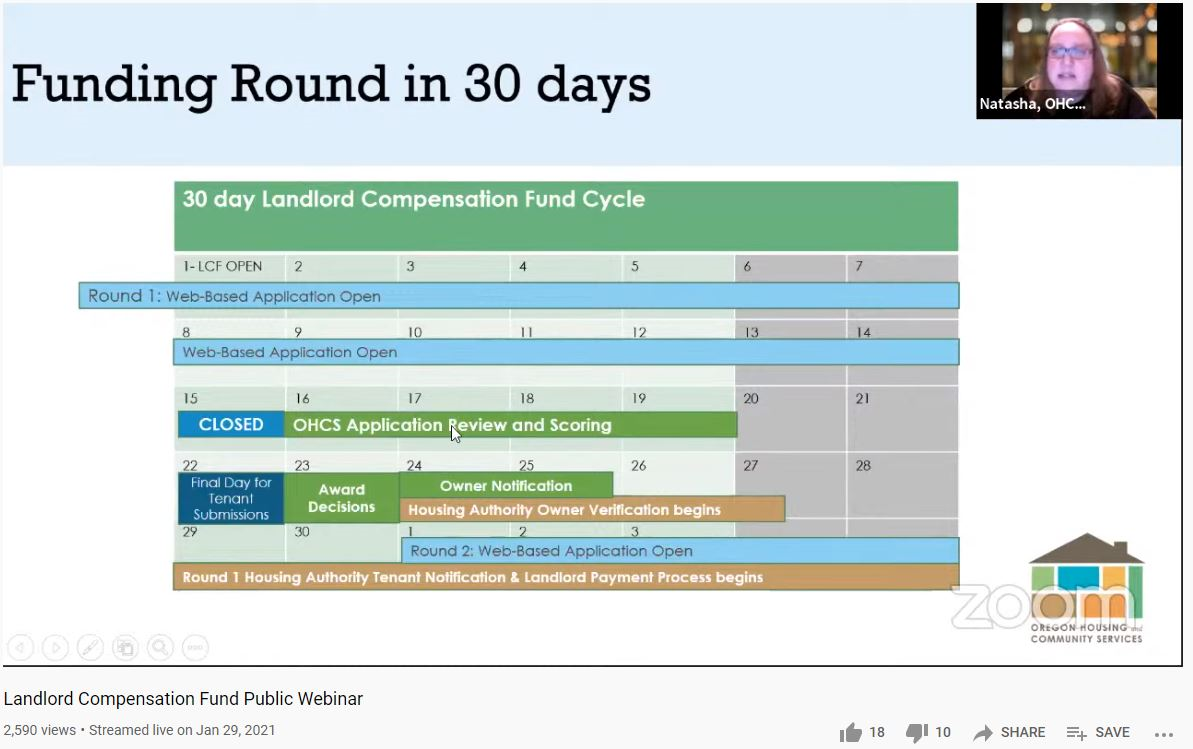 Who Distributes the Money?
If approved the funds will be distributed to you by the local Housing Authority.
Who Do I Contact If I Have Other Questions?
You can reach the state at HCS.LCF@oregon.gov
Should A Landlord Utilize the Fund?
It depends. There are a few reasons to consider not participating. One is economic, one is strategic, and one is based in principle.
The Economic Reason
Every landlord has been impacted differently by the eviction moratorium. If you are in a position where you need the money (and many do) then applying for compensation via the fund is the fastest possible option of getting relief.
The Strategic Reason
The decision by the Governor to pay landlords less than the amount owed may be a violation of the U.S. Constitution. In fact two landlords are suing over this exact issue. Below is a snippet from an update from Multifamily NW, a landlord association in Oregon and SW Washington.
On Monday, December 21st, plaintiffs Moe Farhoud and Tyler & Crystal Sherman filed a lawsuit against Gov. Kate Brown, the state of Oregon, Multnomah County and the city of Portland in federal court against the unreasonable burdens placed on housing providers by the ongoing the eviction moratoria.
If the plaintiffs are successful, the state may be responsible for paying landlords in full. If you apply for, and receive rent via the LCF, you may not be eligible for full repayment in the event the suit is successful. We strongly recommend consulting an attorney if you have questions about this.
The Principled Reason
No other industry in America has been asked to absorb the financial burden of COVID-19 more than housing providers. Housing providers have been asked to provide a product and service for 10 months without compensation.
To add insult to injury, the government did very little to mitigate this problem and at no point required tenants to provide proof of financial hardship. Instead landlords have been required to take people at their word. While this approach may have been necessary with the first executive order, there has been plenty of time for state and local officials to revise policy. Housing providers are being asked to shoulder the financial burden so the government does not have to.
With all of this in mind, if you do not pursue reimbursement via the fund, you will have the option of going to court in July for any balances owed (maybe sooner if your tenant does not provide a declaration of financial hardship).
A Major Question: Does the Tenant Pay Tax on Forgiven Rent?
This is an important question. Due to Governor Brown's decision to pay landlords ONLY 80 cents on the dollar, AND require the landlord to forgive the remaining balance, the state of Oregon has likely created a taxable event for the resident as debt forgiveness is taxable income according to the IRS. If this same rule applies here the landlord would need to issue their tenant a 1099-C Form to account for the waived rent and the tenant would be taxed on that income.
Important Resources
On January 29, 2021 the state of Oregon hosted a webinar on the new fund. It is roughly 2 hours long. You can view the entire presentation at the link below.
Landlord Compensation Fund Webinar
Below is a link to the States webpage for the fund.
State Website for Landlord Compensation Fund
Below is a link to the state's portal to apply for relief. At the time of writing this, the link was not active yet.
Forms/FAQ Documents
Below is a link to the form your tenant can file out. It does not need to be this form, but needs to have similar information.
Tenant Declaration of Financial Hardship
Below is a link to a comprehensive FAQ list from the Oregon Law Center. This is based on questions received from the webinar held on January 6, 2021.
Oregon Law Center - FAQ's HB 4401
We hope this article has been helpful. Sleep Sound Property Management, Inc. is a professional property management company operating in Oregon and Washington. We currently service the Portland Metro area, many surrounding suburbs, and Vancouver, Washington.